Fishing tricks my grandfather taught me
Bruna Carincotte
May 18, 2017
Who doesn't like to remember something they learned from their grandfather? The things that the elders taught us stay with us forever and in many cases become true family traditions. That is the case with some of the fishing tips I learned from my grandfather.
The old man had his own fishing customs and the truth is he was very good at fishing. One of his tricks was always to find the most attractive place for the fish. Did you know that fish gather around structures (natural or man-made) on the bank, such as pillars or cliffs with gradually submerged bottoms?
These places serve as a refuge for small fish and as a feeding place for large fish. Here we have most of the fishing opportunities. Deep cliffs, on the other hand, are not very attractive places for fish. That's why the old man always told me to avoid them.
There is a way of knowing how deep the fish are that I learned long ago. It can be measured with a simple and effective method. My grandfather marked the thread right on the spool when he was threading a fish. This can be done with a colored marker or by chalking with a small piece of tape. As soon as the hook is pulled again, the line is allowed to run until the marking comes off the spool. This way you will always reach the depth where the fish are.
I also learned that live bait is better. Fresh, natural baits give off odors that bring the fish closer to the hook. The worms, said my grandfather, are the most appetizing and have to be skewered through the head so that they cannot escape.
All of these tricks are part of my fishing routine, along with some customs that are almost a family ritual. Like my grandfather, I always use the same stick for good luck. I put it in the same position and spot when I go fishing in the boat. In fact, I still have the same rod that I used as a kid.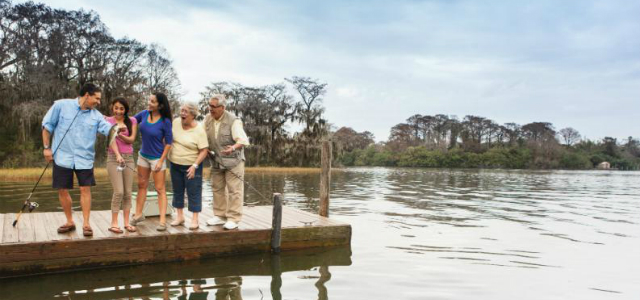 These customs may not have any real basis, but they are part of the legacy I inherited from my grandfather and which I am already teaching my son. Fishing strengthens bonds with loved ones while we relax and enjoy the outdoors.
My son already has a thing for this sport. And although we're not always that lucky, I hope that one day I'll be as good as my grandfather and that he will appreciate this family tradition as much as I do.
Learn more about fishing and sailing. Enjoy a day outdoors with your family and friends. Remember that you must buy your fishing license before you go fishing.
You might like it too
Bruna Carincotte
Bruna Carincotte brings extensive international experience in marketing, communication and public relations to the RBFF. Bruna is from Brazil and is fluent in Portuguese, Spanish and English. She has 13 years of experience in communications and has relevant project management skills developed in Latin America, Europe and North America.
Bruna is now in charge of public relations and social media strategies, as well as content development for RBFF's social media channels and for Take Me Fishing ™ | responsible for campaigns for the Vamos a Pescar ™ brand.